Due to the extreme generosity of 54 donors, Caleb was able to surpass his goal and raise $3,394 for Ultimate Peace! Joined with the $2,523 that was donated in my name, Caleb and I were able to raise $5,917 for Ultimate Peace! We could not be more honored to receive such overwhelming support. It's truly staggering.
Caleb and I began our journey to the Middle East on July 1st with a trip to the US Open in Rhode Island. While there I participated in the USA Ultimate summer board meeting, and Caleb and I watched lots and lots of incredible Ultimate. On July 4th we drove up to Boston for some family time and then the next afternoon departed from Boston on our flight for the Middle East!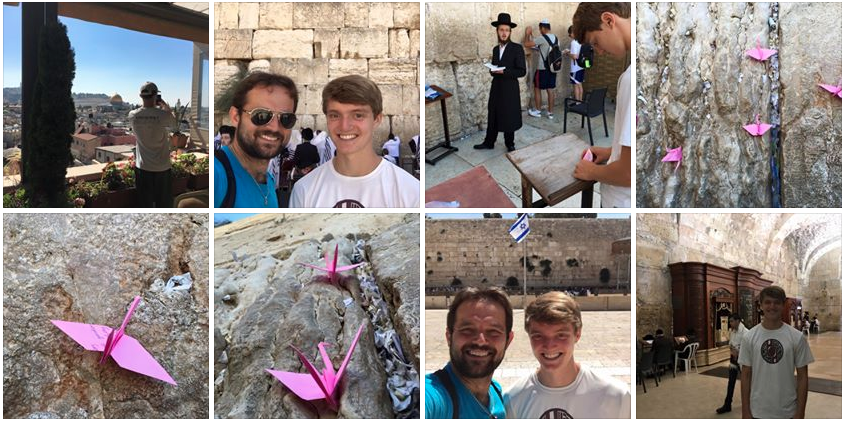 Over the past 5 days we have:
Explored the West Bank in and around Bethlehem and Beit Sahour while spending two days living with Ben Spears. We got to see Shepherd's Field, the Church of the Nativity, downtown Bethlehem, the Azzeh refugee camp, as well as take in some world class soccer with a bunch of locals.
Traversed The Old City of Jerusalem while staying at the Hotel Hashimi in the center of the Muslim Quarter. While in the city we folded cranes at the Western Wall, walked around the Dome of the Rock and ramparts around the city, took in the view from the roof of the Austrian Hospice, toured the Church of the Holy Sepulchre, went on the Western Wall Tunnel Tour, ate Knafeh, and otherwise soaked in as much of the surrounding atmosphere as we could.
Joined in on an incredible Ultimate Peace Community Visit that brought together players from Tuba and Yesod. On the drive up to the north, we stopped at Mt. Beatitudes, Capernaum, and the Church of Multiplication. At the Community Visit we had a phenomenal time playing and otherwise being goofballs with an absolutely joyous group of kids, almost all of whom will be at Camp UP next week!
You can view some video of the community visit right here. Photos are online here.
While we are traveling, Caleb and I will be uploading photos to this gallery.
Once again, thank you all so much for your incredible support!