Busy times indeed.
Thanks to the generosity of many people, I have now raised $2,050 towards my goal of raising $5,000 by 6/21. Thank you so much everyone! If you'd like to make a donation, you can do so online right here. If you do make a donation on my behalf, please put down my name on the online donation form where it says "in support of". Donations are tax deductible.
On Wednesday (5/30), we held the Last Practice of the season. The session was dominated by "Disc Olympics", a competition comprised of many events involving running, throwing for distance, and throwing for accuracy. At the end of the event each player finished with a certain number of points, which earned them a certain spot in line for choosing which item of free schwag they'd get to take home. (This is how I get rid of lots of gear I accumulate over the course of the year.) Photos of the event are online right here. Needless to say, we had a great time:

On Thursday, St. Johnsbury Academy held their last classes, and then followed them up that evening with the Prom at the famous Mt. Washington Hotel! For the fourth year in a row I took the official Prom photos. As usual I had an absolute blast and the kids were phenomenal!
On Saturday, I headed down to Boston to run the first of two BUDA Youth Club Championship tryout sessions. 3 StJA players came down to the tryout, and overall 33 kids attended. We ran through many drills, scrimmaged, and timed the kids on two running sets. The competition was strong and the kids played very well, despite the very wet conditions.
On Sunday morning I caught the StJA Ultimate bus at 5am and after a small hiccup of waking up a few sleepy players, we were on the road headed south to the Coed NE Champs in Somers, CT. On the bus was the St. Johnsbury Academy X team: 18 total players from all three StJA teams. The NE Champs is a decently competitive event that's a bunch of fun. It has been the last tournament we have gone to for the past 8 years, and we have always brought a mixed team spanning all three StJA teams. The weather ended up being fantastic, and the kids played very well going 3-2 and finishing 5th out of 8 teams.
On Monday, several thousand people converged onto the StJA campus for graduation. The faculty lined up inside due to the rain, and as usual, stuffed candy into the long sleeves of our graduation robes. Spearmint candy will always be my go-to graduation candy. The faculty then walked into the gym, through double rows of graduating seniors, and then we continued into the Field House. After the procession of graduates, the ceremony began. We heard several great speeches, and then moved onto the awards portion of the afternoon. The largest student award is the Headmaster's Prize, which is given each year to one graduating girl and one graduating boy. This year, the award went to two Ultimate players: Ava Schein and Eric Rauert! Wonderful! Then, to cap off an already surreal day, I was awarded the Laudamus Verum Magistrum (Teacher of the Year) Award! Wow! What a day! Video of the graduation ceremony is online right here.
After the graduation ceremony and a trip down to a glorious graduation celebration in Lyme, NH, I headed back home to get a bit of sleep before the next big event… the yearly End of Season Potluck.
My day started at 6am with a trip to D&D. I went about 8 years with no coffee, but this is the year that got me back into the caffeinated swing of things! By 6:30am I was in my classroom, doing my yearly battle with a binding machine, a copier, and a whole lot of hole punching. With the help of my glorious assistants, Coach Heller and Coach Stafford, 50 copies of the 2012 STJ Ultimate Yearbook were built, just in time for speech and award time. You can grab your own PDF copy of the yearbook right here. (25mb, PDF)
The 2012 End of Season Potluck started at 3pm with the kids gathering for an hour of social time. Scrimmaging started on Stowe Green and several StJA Ultimate Alums mixed into the action. We started cooking by 5 and about 45 minutes later we started eating our way through a huge potluck buffet! By a little after 6pm, the core event started: gift giving and speeches. Every player gave a speech and gift to another player. After each individual gift was given, players and parents were given the floor for more gift giving and speeches. During this portion of the night I was given a framed picture of the 2012 Open Division State Champs — US! — signed by all the players.
Next, it was my turn. I unloaded three boxes worth of yearbooks and awards. I led off, as I always do, with reading "This Year in Ultimate". After my intro, Coaches Stafford, Heller, and Davis read their sections of the letter. I then finished it up and moved onto the Superlatives and major awards. After saying everything that could be said, the yearbooks were given out and the kids then spent the next 2+ hours in small groups signing each other's signature pages. The kids drifted out into the night, and by 10:30, all the coaches had done home.
End of Season Potluck photos: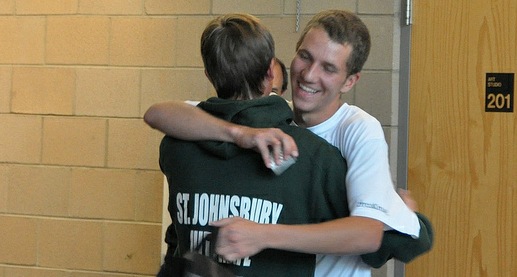 End of Season Potluck video:
A few teacher work days, a teacher fun day at Waterford Springs, and a weekend retreat in Stowe away from it all… brings me to today.
I have almost all of my packing done for Israel. I'm mainly now in the mode of going over lots and lots of lists to make sure I remember everything I need to bring and get done before I leave. I'm feeling pretty good about the state of things.
I have a couple more days of house work and travel prep here in St. Johnsbury before I head south for a few days home with the family in Western, MA. Amherst Little League playoffs begin on Wednesday, and then Caleb graduates from Elementary School on Thursday! On Friday I'm heading out to Boston to spend the night with my brother Jesse, and then at 9am on Saturday, my flight takes off for Israel!
Many miles have been traveled. Many more lay ahead.